Fortune RX7 Complete Car on SALE!
2022/04/07
VeilSide Fortune Blue RX7 complete car is on SALE❗️
VeilSide Fortune RX7コンプリートモデル販売中❗️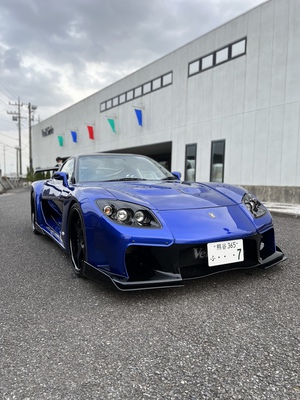 RX7 1999 type5, 5 Speed manual transmission models.
OH's done when early 60000km.
It is really good condition with no defect.
Also, Suspensions, Muffler, VeilSide's reclining seat and Andrew Racing Forged V 20 inches Matte Black were equipped.
Please contact us for Price.
Contact
: webmaster@veilsidejpn.com
VeilSide本社にて仕上げた車両になります。60000キロ前半でオーバーホール済みでエンジンの調子もとても良い極上車です!
モールなども交換済み、さらには現在廃盤になっているブルーのリクライニングシートがセットでとても車体カラーとマッチしています。
1999年 5型、マニュアルトランスミッション、ノーマルエンジン(OH済み)、VeilSideリクライニングシート、追加メーター、社外車高調、
社外マフラー、Andrew Racing Forged V 鍛造ビレッド20インチホイール マットブラック
何か質問などありましたら下記のメールアドレスまでお気軽にお問合せください!
お問い合わせ
: webmaster@veilsidejpn.com