FAST X Campaign!!
2023/06/06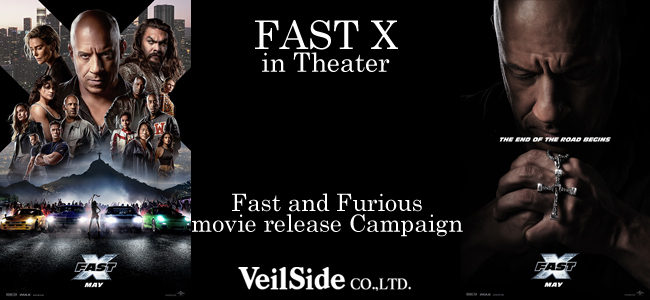 5月にワイルドスピード ファイアーブーストが公開されました!
今回のキャンペーンは過去に劇中に出演した全てのVeilSide車輌をスペシャル価格で販売いたします!!
劇中に登場する車輌を手にいれるチャンスです!!
いつか購入したい、ボディーキットを交換したいとお考えのお客様、特価にて購入が出来るチャンスです!!!
まずはお気軽にお問合せください!!
FAST X had released on May,2023!
We have listed the special price for the body kit which were on the Fast and Furious movie!
This campaign will be the great chance to purchase for the kit.
対象車輌を写真付きで紹介!
Fast & Furious Tokyo Drift
Fast & Furious (1st movie)
興味のある方は、ぜひこの機会にお問い合わせください!!
If you are interested in, this offer is really great chance!!

あくまでもこちらのキャンペーンは、ヴェイルサイド本社のみでのスペシャルプライスです。
当社販売店がない国のお客様にも対応させて頂きます!
下記メールアドレスまで、お気軽にお問い合わせください。
These special offers are only VeilSide headquarter does.
We will take care the country which doesn't have our distributor(exclude USA).
Feel free to contact us below!!