Autumn Campaign!!
2022/10/11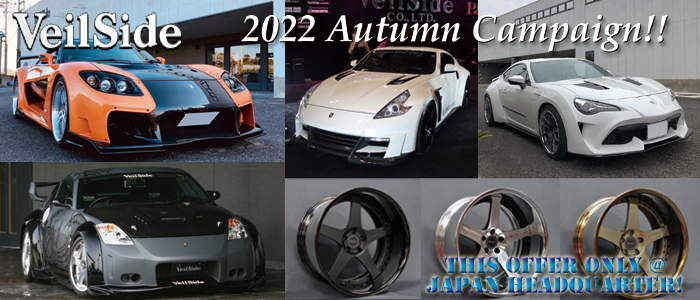 VeilSideからAutumn Campaign のお知らせです!!
VeilSideの下記商品を期間限定で特別価格にて販売致します!
是非この機会をお見逃しなく!!

対象車種・商品:
・MAZDA RX-7(FD3S) Fortune model
・86/BRZ(ZN6/ZC6)
・Z33(VersionI・II・III)
・Z34
・Andrew Racing Forged V

詳細に関しましては、下記メールアドレスまでご連絡ください!
Here are the announce of VeilSide Autumn Campaign!!
VeilSide will offer the special discount for the following items.
Currently the exchange rate for Japanese yen gives more discount than usual order for international orders!

LINE UP:
MAZDA RX-7 (FD3S) Fortune model
TOYOTA 86 / SUBARU BRZ (ZN6/ZC6)
NISSAN 350Z(Version I, II, III)
NISSAN 370Z
Andrew Racing Forged V

Please contact following email for more detail.
*This offer exclude the area of our distributors.

Contact: webmaster@veilsidejpn.com