30th Anniversary Campaign Part 3!!
2021/05/14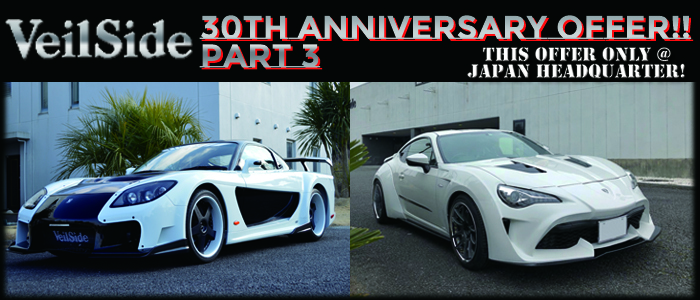 30thAnniversary キャンペーン第3弾‼️
Now we offer 4th 30th Anniversary Campaign!!
1. Fortune7 Complete kit
3. Z33 Version 3 Complete kit
4. VeilSide 86 Complete kit
5. Z32(300ZX) Wide Complete kit
5. RX-8 D1-GT kit
5. Andrew Forged V wheel
上記キット・ホイールを、各1セット限定で特別価格にてご提供させていただきます!!
VeilSide 製品の中でも主流となるコンプリートキットになります!
興味がある方は是非是非お早めに‼️
詳しくは、下記メールアドレスまでご連絡ください!!
We will be offered one set on each kit and wheel as special price!!
Please contact the email shown below for the detail.
The offer will be ended shortly!
※1 当サイトに掲載されている画像に関しましては、著作権及び個人情報が含まれます。
無断での転載・使用を堅く禁じます。
※2 海外等のオークションサイト(Ebay)にて当社エアロパーツとして偽物が多数販売されているようです。
また、ステッカーやエンブレム等まで偽物を製作販売している悪質な業者も多数あると報告を受けております。
万が一にも購入されてコピー品であった場合、当社では一切保障及び責任は負いかねます。
正規販売店に関しましては、お手数ですが当社までお問い合わせください。
*1 The image files on our web-site has copy right or include the personal information.
We strictry prohibited to use these images without permission.
*2 There are many fake products of our designs are sold in the international auction web-site specially on Ebay.
Also, there are many supplier sell the fake sticker or emblems are reported.
In the case you purchase the fake products, we can not be guarantee and responsible for the purchase.
Please contact us for the Authorized dealership in your area.