2019 Christmas Campaign!!
2019/12/16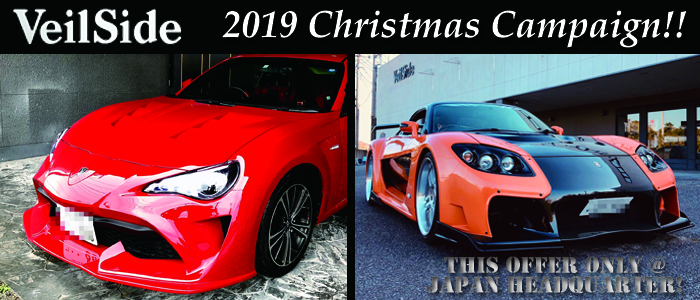 VeilSideから2019年を締めくくるキャンペーンのご紹介です!!
VeilSideも来年で、30周年を迎えます!!
30周年を目前に、年末キャンペーンとして特価にてご提供!!

Here are the Last campaign for the 2019 from VeilSide Headquarter!
VeilSide will be the 30th anniversary in next year!
We will make the special price for the campaign for the end of 2019!
Campaign 1
80スープラベース4509GTRコンプリートカー30thAnniversary仕様!!
1台のみの限定車両!早い者勝ちです!
4509 GTR based JZA80 Supra Complete car 30th Anniversary spec will be build!!
Only one limited!
The spec of engine can be changed as your request.
Base price will be 7,500,000 JPY
This car will be only 1 made and first takes the offer.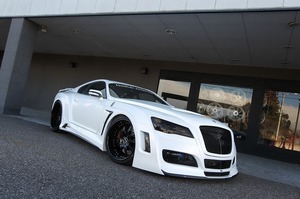 Campaign 2
VeilSideにてキット塗装取り付け又はオールペイントを行うお客様限定!
塗装面の一箇所にエアーブラシにてお好きな文字入れをサービス!!
Limited for the customer who order the kit and all paint at VeilSide Headquarter.
We will paint the word which you would like on the car!
Campaign 3
VeilSide30周年記念スタート!
期間限定・数量限定、商品をお買い上げのお客様にスペシャル限定品をプレゼント!!
30周年記念限定品となりますので、早い物勝ちになります!!
VeilSide 30th Anniversary start!!
Limited quontity and term, Special gift for the customer who purchase the following kits!!
The gifts are 30th anniversary Limited edition and fast take!!
Listed products:
TOYOTA 86/ SUBARU BRZ
Fortune 7
Z32 Wide body
iQ-R
VeilSideエアロパーツをクリスマスキャンペーンとして、特価にてご提供!!
VeilSide body kit as special price!!

詳しくは、下記メールアドレスまでご連絡下さい。
Please contact following email for the detail!!
キャンペーン期間は、12月19日~12月30日まで
Campaign starts from Dec 19th to Dec30th!!